A guest blog post by Tom Jenkins, Content Writer at CloudTask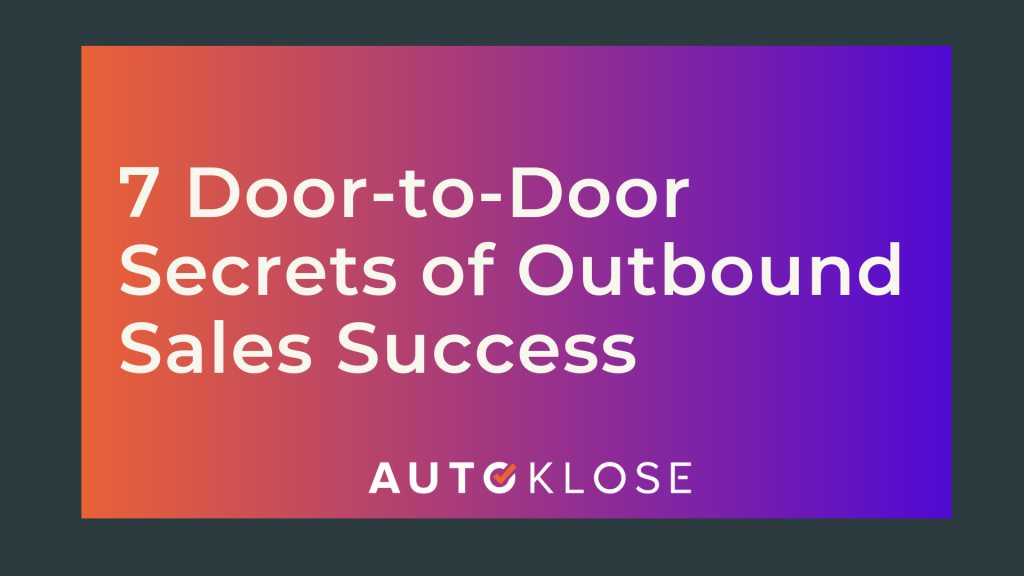 Growth is the mantra of the modern economy: every sales manager wants to build the team that will lead their business to the front of the INC 5000. But, outbound sales success requires you to have the heart of a teacher and the tenacity of a door-to-door salesperson.

It includes two metrics: an increase in new customers and a low turnover in current customers. To achieve this, a sales team should use the following methods.
1. Research and Plan the Approach

The approach is so important it gets two points in our secrets to success. First, plan your outbound approach. Second, qualify the people you approach in the sales process. If you have a poor plan for approaching prospects, the work will be more difficult than need be. If you have an excellent sales process planned out but don't qualify your leads, you will waste time and cause headaches for everyone in the team.

Research for the approach includes the following:

Identify your target market,
Split test the most effective way to approach them
Train your entire team on the process.
Proper research also includes doing the actual practice. If you have never cold-emailed your target market, how do you know it's the best approach to work for this specific outbound funnel? For example, cold-emailing bloggers for guest posts works really well. Cold-emailing business owners for placing your product in their store doesn't.
2. Qualify Your Leads

The right lead will buy from you 100% of the time. The sales process is the approach, qualification, presentation, answering objections, and the close. The entire sales process is designed to separate the right leads from the wrong leads. Because of this, understanding and teaching your team how to qualify leads is a key success principle in outbound marketing.

IBM made BANT well known (Budget, Authority, Need, Time). But, inbound marketers like HubSpot have created significant depth to the qualifying processes:

Budget qualifications include looking at initial investment, cash flow, competitors costs, and others.
Authority qualifications determine whether an influencer has the capability to convince the decision-maker about the benefit of your product.
Need looks at whether your service or product matches the lead's goals, solves their challenges, matches their timeline, or fits in their plans.
And time becomes a much more sensitive qualifier in the 24/7 instant communication world post mobile and social technologies.
3. Serve the Prospect

It is so tempting to approach outbound success from only the numbers. Don't do this.
Every door-to-door salesperson loves the moment when the prospect they approach connects with them. Suddenly, the entire street opens up as a new friend walks you to all their friends' homes to introduce them to you. This is what happens when leads feel served.

The numbers are important, so important. But, any good sales team knows that the numbers are important (commissions are such great influencers). To have a successful outbound sales team, train them to approach your customers with an attitude to serve.

To see how this would work, imagine approaching a door. Your thought process goes like this: "I am so excited to meet these people and see how I can serve them. I know not everyone needs my product or service, but everyone needs a connection with a human who is interested in them. I will serve them, and if they are qualified, I will provide them a product that will improve their lives."

Now, contrast that with the following thought process: "OK. I got to get through the no. I get a customer for every 3 doors I approach, so I need to get through this approach as quick as possible to determine whether this is the one, and then move on."

Do you see how the service approach gives you a moment of connection that can lead to more referrals, a relationship for when the lead becomes qualified, and helps reduce stress in your sales team?
4. Integrate Inbound and Outbound Success

Modern sales teams do not have time to do the hard work of a door-to-door salesperson. The reason is, technology has made the 45 to 60 calls a day that a hard-working person can do in 12 hours obsolete. A good salesperson uses tech to perform those same 45 to 60 calls in significantly less time.

Because of the faster turnaround of the sales process, a good outbound team will use inbound techniques to simplify aspects of the process. Blogs or videos can answer objections, giving a salesperson a great tool and providing an opportunity for leads to enter the sales process already educated.

Education on the blog and website provides an opportunity to assess a lead's need qualifications before they ever talk to a salesperson. Sales chat on a website can actually connect your outbound sales process with your inbound funnels – more on this later.
5. Use Social Selling

In 2017, there are two types of outdoor sales reps (the more modern, business-friendly term for door-to-door salesperson). There are reps who are trashed on social media, and there are reps who build rapport and receive recommendations from social media. The difference between these two types is that the successful ones utilize social selling.

Social selling uses social networks to make connections, filter out leads, and increase the opportunities to serve potential clients. After Microsoft bought LinkedIn, the social site that was known for finding work became the business social site. Did you know that, and have you used LinkedIn for social selling?

Part of researching the approach and training your sales team must address both how to use the right social network to connect with the ideal customer, and to use it to build rapport, set appointments, and close clients.
6. Economize with Sales Chat

Sales chat uses professionals in the chat section of websites to connect with leads, follow up with sales conversations, and convert outbound activity into inbound leads. How? After reaching out to prospects they often visit your site and want more info. Sales chat gives them the perfect opportunity to receive that info.

Many businesses use a chatbot for customer service and basic responses, but this misses a key part of the modern sales process.

Furthermore, it not only supports outbound activity but all kinds of activity. Afterall it can generate you $4.5 million in open pipeline and a 5.2X positive return on ROI.
7. Time Has Moved on But Many Principles Remain

Outbound sales and marketing has grown beyond the 19th Century, but the lessons of a traditional door-to-door sales rep still hold true in the 21st Century.

Use these secrets to supercharge your sales process, train your employees to be the greatest salespeople in the world, and automate your sales through integrated inbound and outbound efforts.
---
About CloudTask

CloudTask is a managed workforce provider for growing companies looking for B2B Sales, Sales Chat and Customer Support solutions. Their mission is to find prospects, nurture leads and satisfy customers, to enable you to achieve your business goals.
To find out more, visit CloudTask.com and speak to their live chat.

---