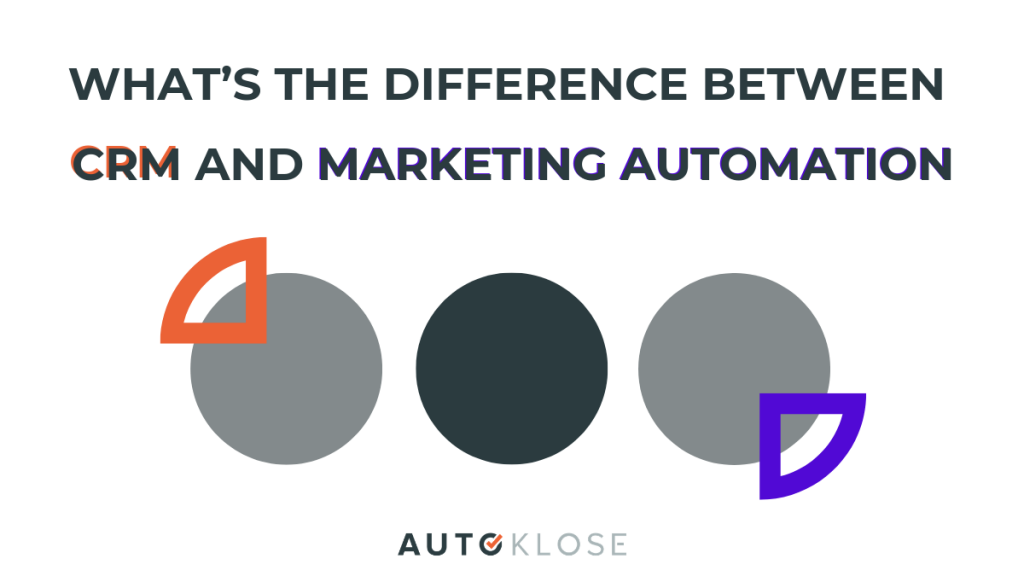 In a world where we're blessed with an abundance of tech solutions for different parts of the marketing and sales process, it can be hard to make up your mind and decide what exactly you need in order to find your potential customers, attract them, capture their attention to the point in which they actually decide to give you a chance, nurture them into becoming your paying customers, and finally build loyalty with them and prevent them from churning after just one purchase.
That's quite a complicated task, don't you think?
No wonder that many people are confused over the two of the most important concepts that can make their lives infinitely easier – marketing automation and customer relationship management software (CRM).
It can't be denied that both these pieces of software work towards the same goal – to make working with the company's leads and customers easier and more transparent as well as to streamline the processes, they significantly differ in several respects and serve two different purposes.
So, let's see which one you need.
What Is Marketing Automation?
The main role of marketing automation software is to help your marketing team generate, capture, nurture, and engage leads, that is, people who express interest in your product or service.
There are different types of marketing automation platforms depending on the marketing process that you want to automate.
We're mainly talking about top-of-the-funnel activities such as:
visiting your website
reading your blog
downloading your e-book
scheduling a demo
opening your emails
With marketing automation, you can easily schedule, track, and analyze all your marketing efforts and see how every particular lead progresses as well as identify how your every campaign performs.
This will help you understand which parts of the process you need to change and adjust.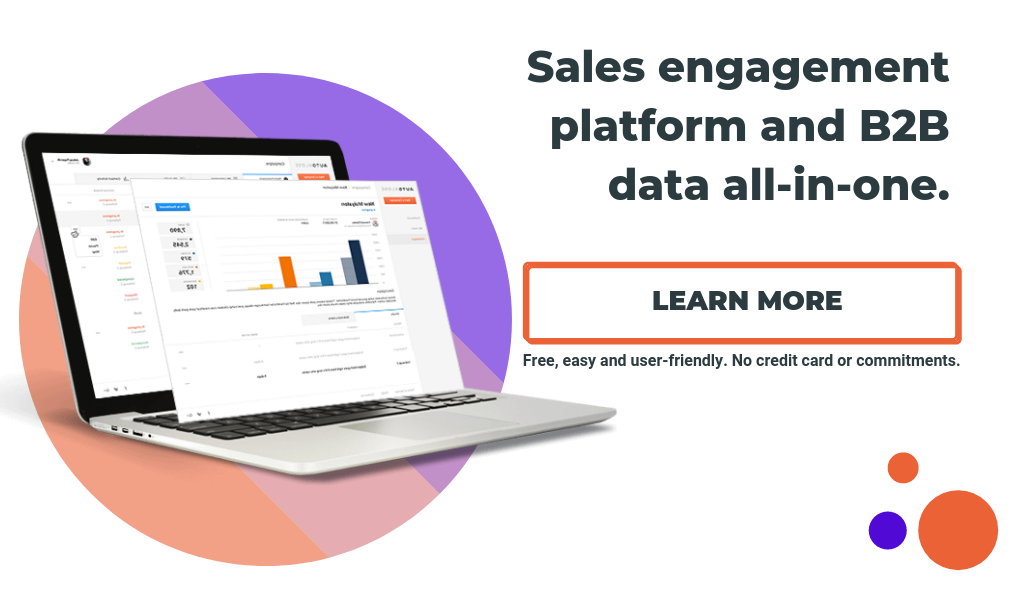 Benefits of Marketing Automation
Let's list and discuss some of the most important benefits of marketing automation to help you decide whether you need this process in your arsenal (and we most certainly think you do!)
It allows you to split and organize your contacts into different email lists and segments based on their different characteristics – their previous interactions with your company, their interests, pain points, needs, and preferences.
Its lead-nurturing functionality helps you set up triggered campaigns, which means that appropriate emails will be automatically launched when a certain predefined action occurs – for example, when a new user registers they will get a welcome email, when their subscription is about to expire they will get a mail notifying them about that, or when someone makes a purchase they will get a thank you email. A drip campaign can also be scheduled so that your prospects are regularly informed about the latest news about your company.
Its analytics is a great feature that helps you gain a valuable insight into how your campaigns perform, and what you can do to improve them.
How to Know Whether You Need Marketing Automation?
Your business has grown and you can't manually keep track of your prospects, campaigns, and their results? With a reliable marketing automation software, you'll have all this under the same roof. It will also make sure that your every contact doesn't miss a stage in your marketing funnel which is essential for the nurturing and lead qualification process.
Your list is too small? Then a marketing automation platform is the right solution to help you ramp up your prospecting and lead generation efforts as it will allow you to consolidate your outreach and monitor it.
Your content is awesome but your traffic doesn't show that? With marketing automation, you'll have a great opportunity to promote your content and put it in front of the right people's eyes.
Let's take email marketing automation as an example.
Email marketing is a particularly cost-effective marketing strategy – research shows that for every $1 you invest, you earn $38.
Besides, according to a survey, millennials spend approximately 6.4 hours in their email inboxes every day. Even if you're not targeting only millennials, you should know that most people check their email several times a day.
It's great for lead generation and nurturing, as it allows you to send targeted and highly-personalized messages that will resonate with your audience.
Email also helps you stay on your prospects' radar and build stronger relationships with them.
But if you want to enjoy all these benefits, you need to automate all your email marketing efforts and have everything you need under one roof.
Autoklose, our sales email automation platform is exactly what you need. It allows you to create, schedule, and send personalized, segmented, tailored, and action-triggered email marketing campaigns, monitor their performance in real time and effectively manage your contacts.
Moreover, you can take advantage of our super clean database filled with 28 million B2B leads from the U.S. and Canada, which is a huge plus if you have a hard time finding and generating fresh and relevant leads.
After you've built your list and segmented it with the help of our powerful filters, you can check out our predefined email sequence templates, customize them, and schedule your email campaign. If you aren't sure about how to create an effective sales cadence, check out our blog post.
Our Always Running Campaigns feature allows you to restart your winning campaign by adding new contacts and make the most of it. What's even better, you can connect Autoklose with CRM software and every time a new contact lands into your CRM, it will be added to a specific, ongoing campaign in Autoklose. Read more on that here. 
Finally, you don't have to keep tabs on all your leads manually and worry whether you'll forget to follow up – that's both impossible and ineffective. Autoklose does that for you and provides you with detailed reports on all your campaign KPIs as well as the performance of your team, and take smart action.
So, as you can see, email automation is a powerful mechanism that can save you a lot of time and bring you a lot of high-quality leads.
What Is CRM?
Customer relationship management is a system which helps you maintain and manage your company's different interactions and relationships with your existing and potential customers.
The purpose of CRM is to help companies successfully maintain connections with their customers, streamline different processes, and boost profitability.
When we talk about a CRM system, we're usually referring to complex software which enables you to improve your connections with individual people including your customers, suppliers, prospects, and even your colleagues, as well as help you identify potential clients, win them over, and provide them with the right customer support and additional services throughout the relationship.
CRM is primarily designed for salespeople, and it stores all the relevant information about the prospects and customers, records interactions and service issues, identify sales opportunities, in one place and in general makes all this data accessible to anybody from the company who needs it.
As it can be connected with different sales and email tools, a CRM platform provides you with customers' history with your company, their orders, all the way to their comments and likes on your social media channels.
So, it's a comprehensive system necessary to optimize the bottom of the funnel.
Benefits of CRM
It allows salespeople, and everyone else in the company, see where every particular prospect is in the sales process, which can be of great importance when it comes to pushing them towards closing the deal.
All the customer information stored in one place can help salespeople get a full picture of the customer they're talking to, thus allowing them to personalize and tailor the conversation which is one of the crucial factors for getting them to make a purchase.
Many CRMs can be integrated with other tools so that you can collect different metrics from other communication channels, such as social media, email marketing, or phone calls. This way it's possible to establish which channel performs best and brings the most leads. This offers salespeople a comprehensive outlook on every interaction with every single customer.
How to Know Whether You Need CRM?
Your customers are reporting poor customer experience and non-satisfactory interactions with your sales reps. Bad customer service is a kiss of death for every business, and it's important to spot it in a timely manner and nip it in the bud.
Your customers aren't properly navigated through their customer journey. CRM can do wonders when it comes to setting them on the right track and optimizing their experience.
You can't handle all your customers with the help of a spreadsheet, so it's time to organize your sales department properly and give them the right tools so that they can actually close deals.
What's the Difference Between CRM and Marketing Automation?
Although these two tools are similar, the main difference lies in the fact that marketing automation is primarily designed to help marketers and their top-of-the-funnel activities, while CRM is mainly sales-oriented to help them manage their middle- and bottom-of-the-funnel activities.
However, there are no strict boundaries and both salespeople and marketers can greatly benefit from using both these tools.