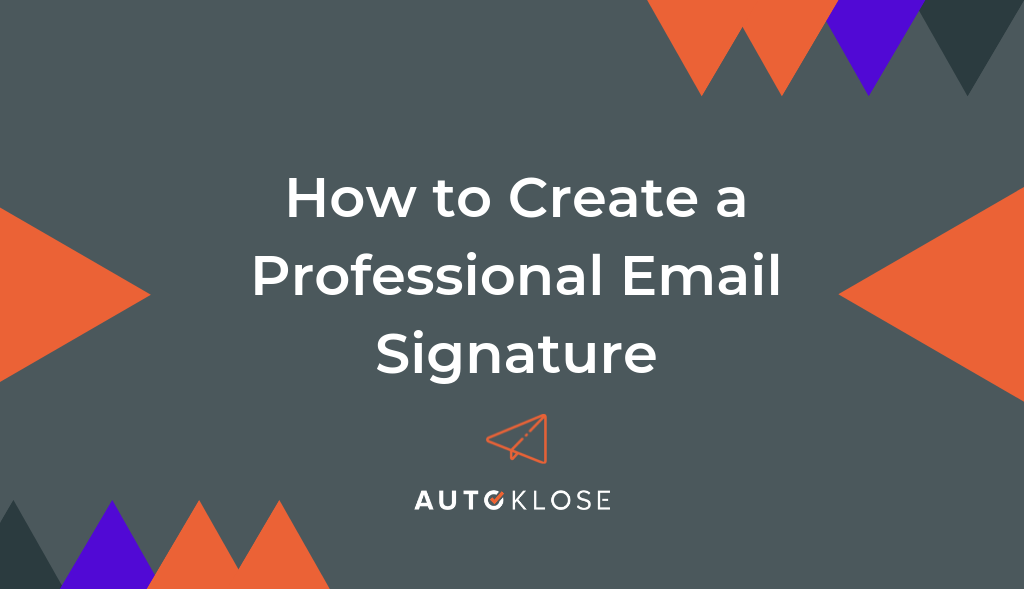 In our previous articles, we tackled some of the most important issues related to sending emails – writing compelling subject lines and structuring follow-up emails.

Your email signature is just as important aspect of a good outreach strategy as it grabs attention and leaves a professional impression on your prospects.

The goal of every email signature is to be informative, simple and to create a memorable first impression. Just think of it as another channel of marketing communication, a business card of modern times.

Let's run over some basic rules of creating a professional email signature.
What Should Be Included in an Email Signature?
Up to 4 lines of text
Your email copy already indicates who you are and what you are trying to achieve. There is no need to include too much information in the email signature and overstuff it, especially since we know that an average professional receives 120 emails per day.

In order to keep your email signature to the point, include just the most important information:

1. Your full name. This might seem like an obvious one, but a lot of signatures don't even include a full name and surname. Given that an average professional spends 28% percent of the workweek managing email, don't forget the basics as it might automatically reduce your chances of getting a response.

2. Job Title. Let your prospects know your exact job title. It can help them understand the structure of your department and company.

3. Company name. Add a link to your company's website to the name, and make it easy for prospects to look it up.

4. Phone number. This fourth line of text is optional. Not everyone wants their prospects to contact them via phone. In case email is the only form of direct communication for you, feel free to skip this.

Include an image
What will definitely make your signature more memorable is adding a face to the name. Include a professional image of yourself, as you would add to your CV or LinkedIn profile. Avoid low-resolution images, selfies, or non-relevant graphics.

A headshot can contribute to a more personal relationship with your leads as it inspires trustworthiness. Also, research shows that photos that contain people are the most memorable ones.

A brand logo is another popular option for adding a graphic element to your email signature. It increases brand visibility and recognition.
Social media links
Give the email recipient a chance to contact and follow your company on social media.

When including social media links of the company, icons are way better than URLs. They are recognizable and save a lot of space in the signature.

Only link to social profiles that are relevant and up to date. Depending on corporate culture and intent, decide whether you want to include your own personal profiles.

Here's another useful tip when it comes to social icons. Most templates give you the option to customize the look. Use shapes that go along well with the rest of the signature. For example, if your image is round, pick icons that are round as well.
Call to action
Your email signature can be a great place to add call-to-action buttons and links.

If you are looking to sell an ebook on your website or promote an article you just wrote, it might be a good idea to add it to the bottom of the signature. Write a compelling line of text and link to the resource.

This is an effective and unobtrusive way to drive people to action, whether it's promoting a demo, downloading an ebook, or checking out your portfolio.
Get the Most out of Your Email Signature
Here are some tips and tricks that have been shown to bring great results:

Sent from My iPhone. If you are in a hurry, typing from your phone and think there might be spelling or grammar issues in your email copy, try adding phrases like "Sent from My iPhone" at the bottom. A study shows that recipients of such emails are likely to be more forgiving of errors.

No need to add an email address in your email signature. It takes space and a recipient can already see your email address and reply with just one click.

Limit your color palette. When choosing your email signature colors, less is more. Pick colors that go along with those used in the company logo or with your headshot. Maintaining consistency across different channels is crucial for creating a memorable, long-lasting, and strong brand identity.

Stick to one font. A simplistic approach must be well implemented in all graphic elements of the signature. If you want to highlight certain aspects you can use different font size, color or weight but don't add more than one font family and style.

Use dividers. They can align your design, separate different types of information and contribute to a neat and clean overall design.

Mobile responsive. Many people open their emails using phones and tablets. Screen size is of great importance when it comes to designing your email signature. You should create one that fits on each screen, no matter the size and orientation (portrait or landscape).

Add a link to your calendar. Autoklose has an integration with Calendly. This means that you can create a link to your calendar and include it in your signature, so that your recipients can easily, hassle-free, and without back-forth emailing find an available time slot in your calendar, and schedule a meeting. Needless to say, such a feature will streamline and speed up your sales process. It's particularly useful to have it in your signature as your recipients won't have to look for it in your email messages, which increases the likelihood of their booking a demo or meeting with you.
Create an Email Signature Using Free Generators
Now that you've learned what to include in a signature, it's time to create one.

Luckily, you can find free email signature samples that are customizable and can be inserted in Gmail, Outlook, Apple Mail, Yahoo Mail, Autoklose, or any other email platform.
Hubspot
Hubspot allows you to create a free signature with just a few clicks. It gives you the option to customize the design, font color, family, style, and link color. Its social media buttons are effective and easy to insert. Also, you can add a CTA, text, or image. Once you generate a signature, simply copy and paste it in your chosen email platform. Hubspot is one of the popular sales tools, but you can also consider other Hubspot alternatives if you need more advanced sales features.

Wisestamp
Wisestamp offers a variety of professional templates using different designs – corporate, creative, portfolio. Their signature generator allows users to add all the necessary elements. With the Pro upgrade, you can choose the size of social icons, pick the font size, and font color.

Signature.email
Signature.email gives you creative freedom to make your email signature exactly how you want it. Add any number of fields and drag and drop them into any configuration. It gives you full control over layout, colors, and spacing. You can add social icons, images, banners, and a host of other elements into your company's signature. The tool itself is free to use. The paid plans give you access to additional templates and fields and allow you to distribute the signature throughout your entire company by simply sending a link.
How to Add an Email Signature in Autoklose
Once you created an email signature you can insert it in the Autoklose platform. Simply paste it in the empty segment under Settings > Email > Add signature, as presented below.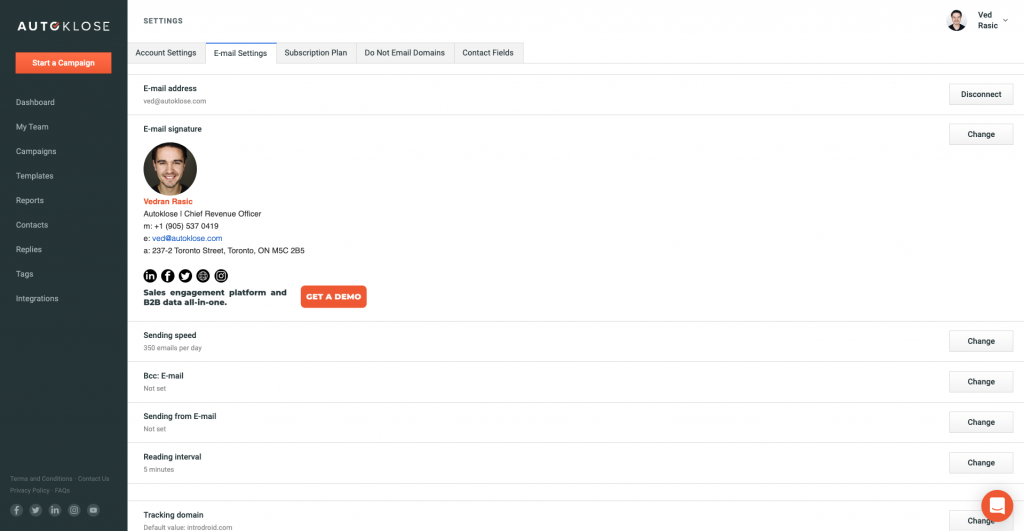 If you want to create one from scratch, it can be done with no hassle. You can add images and links. When you confirm the signature, it will be included in each email sent using Autoklose.
---