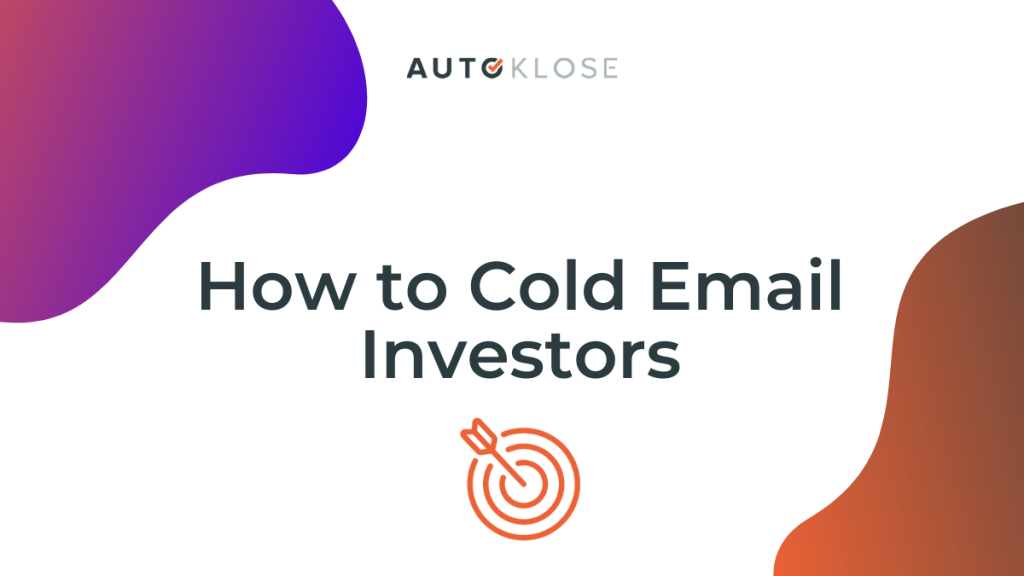 The development of the Internet has opened numerous opportunities for business enthusiasts to contact investors from different parts of the world.
If you have an original idea or a growing business, you can reach out to investors and ask for their financial assistance. Writing such emails isn't simple at all. It takes some theoretical knowledge and a lot of practice.
However, you can cut some corners by learning from people who know how to cold email investors. In this article, we'll show you some wise strategies and examples that can make you win over big shots to support your business projects financially.
Prepare a Punchy and Relevant Subject Line
For starters, stop for a moment just to think about modern investors. Try to put yourself into their shoes.
You can ask yourself the following questions:
How many emails business investors get every day?
A lot. They usually receive dozens of relevant and irrelevant electronic letters in their inbox daily.

Why would they open your email?
Because you've crafted a punchy and relevant subject line. 

How to write such a punchline?
Well, you need to do your homework before you start writing the email. In other words, start gathering data about that investor and his company's investments.

Where to find out more about the investor?
Learn more about the investor in question or their business on social media. Use general and professional social networks in equal measure to find out more about their investment policies. If they haven't invested in businesses like yours, leave them alone. But if you see that your interests may match, write down some of their investments and draw some conclusions from this info.

How to brainstorm different subject lines?
Take a piece of paper and highlight the investments that investor has made that would be similar to your line of business. Then write down the key features of your business that may raise his or her interest to invest in your business.

When is the subject line good enough?
It's most likely that the investor will open your email if it states facts and requests clearly and punctually. So, avoid any sweet talk and cut to the chase. In a nutshell, you don't want your cold email subject line to sound like this: "A new Android app needs investors". It's so generic that even its author wouldn't open such an email. Go for something like this instead: "Support an AI-app for smooth parking". This subject line will give the investor more specific information that they need to make their decision.
Highlight Their Potential Benefits
Let's assume that you've managed to come up with a proper subject line. You've done thorough research about their previous investments and identified them as a potential investor. You've also used all these inputs to craft an irresistible subject line.
Streamline them to keep reading
So, now you have persuaded the investor to start reading your email. Bear in mind that they're very busy and that only a small number of cold emails are opened. As reported by MailChimp, these opening rates fluctuate between 15% and 28%. 
Since you've jumped over the first obstacle, let's not trip over the second one. You want this investor to keep reading your email, find out more about your business, and start thinking about investing in it.
To reach that goal, you need to focus on the benefits that the investor can get from financing your venture.
Offer a basic deal
So many business owners make the same mistake – they start rambling about their history and development. That's a surefire way to lose both your investor's attention and money.
Instead of that, cut a long story short and let them know what's in it for them.
You can go with something like this: "Thank you for opening our email. We're developing this AI-app. Would you like to make an investment to help us launch the app? The average investment in our line of business is XY dollars. We'd like to share the profits 50-50, but we're open to negotiations."
Don't forget to add a link to your app or its pitch deck in the "this AI-app" part. Also, feel free to attach the estimate on which you've based your investment request. In this example, you've stated what the investor can expect in terms of ownership and future collaboration, as well. 
Since you've been frank, direct, and transparent, let's assume that your potential investor has read this part of your cold email.
Provide Stats and Testimonials
The investor has come to this part of your email, so now it's time to tell them a bit more about your business. So, here you can present your business in two or three sentences. While this isn't something you should put in the first line, you need to provide this brief explanation later in the email.
This is the right moment to provide some powerful social proof – for example, testimonials from other clients or businesses, as well. Again, keep it concise and don't pack your cold email with irrelevant testimonials. Ideally, create a landing page with the most important brands you've worked with and include that link in the cold email. 
For instance, you can try something like this: "We've created websites and built apps for some renowned companies, like XY, XX, YY, and ZY, just to name a few. Check out more testimonials on our website." By putting several well-known names in the email, you've raised their interest. After that, they can visit your website for more information.
Suggest the Next Move
When you're thinking how to cold email investors, you're probably visualizing how they're reading the last section of your email. This vision means that you've managed to keep them alert and interested throughout the email.
Since we've got there in this email, let's not blow it now. It's crucial to guide the investor calmly to the end of the email and to prompt them to take action with the help of a carefully crafted CTA. 
It would be inappropriate to insist on an investment in this first email. Your main goal is to generate a lead here. That's why you can suggest a meeting, either in person or online. If you live near the investor, you can visit their town of residence and take them out for lunch or coffee. Also, you can suggest having a conference call, as well.
It's the appointment where you should express the financial details of your offer. On the one hand, you'll show business decency. On the other hand, you'll get a chance to present the entire project in greater detail.
Things to Avoid
Let's discuss some questions that you might ask yourself about the things you're not sure regarding cold emailing investors.
Is less more in this case?

Definitely. A target investor should be able to read your email with a proposal and answer it in less than five minutes, even if they type slowly. In other words, less is more here. The email should be read in less than two minutes. Record yourself reading the written email before sending it out to the investor. Leave some things out if it's too long. 

Can I write from my private email address? 

In a nutshell: no. This won't only look unprofessional, but it might also seem spammy. You should send every cold email to investors from your business email address. 

How many follow-ups to send?

Being too pushy with follow-up emails is a big no-no. If you're wasting your potential investor's time, you might waste their assets, as well. Therefore, wait for a week or so before you send a reminder email to that investor. 
Conclusion
We hope that these tips will help all business owners who aren't sure how to cold email investors. As a mixture of general tips and practical examples, this guide can be useful for business owners from all industries and niches. Of course, you don't have to restrict yourself only to these strategies and templates.
However, don't experiment too much with your cold emails to investors. Make sure to always stay concise and clear, as well as to stick to the point in explaining to the potential investor what benefits they'll have from supporting you.