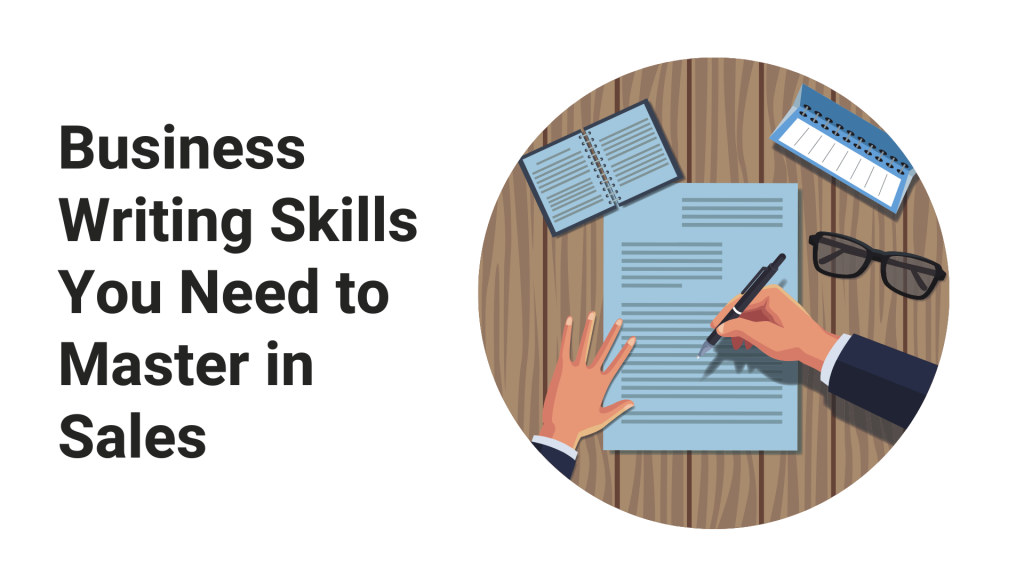 The art of sales involves persuading potential customers to buy products or services. Business writing is one method you can use to make people believe that they need your product. Once you've convinced them that they need you, it's easier to get them to click on "Buy Now" and seal the deal.
Business writing takes many forms. It could be an email, a white paper, a case study, or a blog post – practically every possible touchpoint between your business and your customer.
Learning how to write effectively will help you reach your audience at these touchpoints and drive them through your sales funnel. Keep reading to discover how to master business writing if you're part of a sales team.
Why Business Writing Is Important in Sales
Developing strong communication skills will take you a long way in your career, regardless of your current role or industry. A good set of communication skills will give you a foot in the door at many companies, even if you don't have the requisite technical knowledge.
Many employers say they prefer non-technical employees who know how to speak and write appropriately over technically skilled workers. Such employees often find themselves stumped when asked to make a presentation to a client.
A good communicator doesn't just know how to speak and write. They also know how to listen to their customers and colleagues and tailor their responses to their audience.
Many successful salespeople start with a background in communications. They tend to know what exactly people want to hear or read and can produce content that responds to people's concerns.
Here are a few reasons effective business writing is an essential skill in sales.
Clarity
Effective business writing should be clear, informative, and detailed. Your content should help inform your target audience.
When you know how to explain your product's features and how they can help your customers, they can see the value in your offering. On the other hand, a disorganized piece of content is subject to misinterpretation, which is a dealbreaker when it comes to sales.
Career impact
Business writing isn't just advertising copy. Business writing covers everything you write. That might include performance reports, emails to customers, and business proposals.
When you write well, your readers will be more receptive to you. When you know that your customers, managers, and colleagues read and understand your work, it makes you more confident in your abilities. Your colleagues will stop thinking of you as that person in Sales who happens to write well; instead, they'll think of you as that person who closes deals and brings in revenue.
When you prove your capability as a writer, your colleagues and even your superiors are more likely to ask for your help with drafting different documents. This gives you the internal visibility you need to move up in your organization.
Thought leadership
Whether you're selling something or supporting sales activities in the back office, good writing skills always come in handy. People trust those who express themselves well, and effective business writing is all about expressing your thoughts clearly and intelligently.
You don't need a very extensive vocabulary or write like Shakespeare to look or sound intelligent. The most intelligent writers are those who can explain complicated concepts in the simplest possible terms. The ability to distill complex concepts and present them in a manner that's easy to understand is a sign that you know your topics inside and out.
Online presence and influence on readers
Nowadays, business travel has lessened, and customers are hesitant about meeting service providers face-to-face. As a result, many customers initially find the solutions they need through blogs and company websites.
Knowing how to write for these mediums will boost your online presence and sales.
Business writing is all about influencing your readers. Many people who read what you've written are either unaware of or apathetic about your brand. Knowing how to write properly will convince your reader that they need to give your products or services a try.
Writing effective taglines and calls-to-action will help you influence your readers into taking your desired course of action. That might mean clicking on the button for a free 15-day trial.
Business Writing Skills You Need to Master
Now that we've seen why you need to be a good business writer when you work in sales, it's time to discuss the skills you need to master. Here are six essential business writing skills you need to learn to increase your effectiveness and translate your ideas into revenue:
1. Write for your audience
Instead of just writing the first thing that comes into mind, it's always better to think of your audience first. Knowing your audience will give you a glimpse into their interests, concerns, and language.
Using sales intelligence tools will help you determine your audience's preferences. Sales intelligence tools help you to divide your audience into segments. You can then create specialized content for each of those segments.
For example, if your target audience comprises casual users, a casual tone does the job. On the other hand, if you're writing for C-level executives, a formal tone is more suitable.
2. Correct grammar and punctuation
There was a time when people wrote emails without capital letters or punctuation. Thank goodness those days are over! Good business writing is all about making the reader understand what you're trying to say.
Observing the rules of grammar, spelling, and punctuation make your content more readable and easier to understand.
Source: Chatham University
The world of writing is full of horror stories caused by missing punctuation marks and bad grammar. The example above shows how a missing comma transforms an innocent dinner invitation into something a bit more sinister.
How many times have you been confused because an email didn't use punctuation marks or had poor grammar? For many of us, poor grammar is enough to convince us that the writer doesn't know what they're talking about.
As a person working in sales, you need to keep yourself from committing the same mistakes.
Turning on your spellchecker or using a grammar tool will help you avoid many common errors. You should also read your content aloud to detect passages that sound awkward. Alternatively, you can ask a colleague to read what you've written and proofread your content.
3. Converting product features into benefits
Whether you're writing for a casual user or a decision-maker, highlighting the features of your product or service isn't enough. You can list all of your product's advanced features and not get any reaction from your audience. They may even think, What does that thing have to do with me?
Far from being uninterested, these readers want to know more. You're just not giving them what they want: a concrete reason to try your product or service.
Again, customer knowledge is the key here.
Researching your audience will reveal their biggest pain points. Understanding your audience's pain points will help you write about your product in a way that addresses their concerns.
When your readers see that your product can help make their lives easier, they will be more likely to purchase the products or services you offer.
4. Being brief and concise
Most of your readers don't have a lot of time on their hands.
Many of them are bombarded with all sorts of corporate messaging, such as emails, brochures, white papers, and case studies. When they come across a very long email or piece of content, they either skip it or save it for later (which almost always leads to them forgetting about you altogether).
The goal of business writing is not to impress your readers with your knowledge or vocabulary. Instead, effective business writing is brief and straightforward. It acknowledges the reader's concerns, addresses them, and gives them a way to know more.
The product page from Dropbox is a good example of good business writing:
Notice that the page contains less than a hundred words.
Each of those words serves two purposes: to educate the reader on the benefits of Dropbox and to get them interested in a free trial. The copy offers solutions to readers' pain points.
It sells readers on features. Dropbox is "a platform where all your tools, content, and collaborators are in just one place, helping you work more efficiently."
5. Proper flow
Nobody appreciates email copy that seems to ramble on and on without any logical conclusion. Regardless of your audience, your content should follow a certain structure. That structure should align with the purpose of your content.
For instance:
A business proposal starts with an overview of the project, its benefits, its projected timeline, and costs.
Meeting minutes start with a brief background of the meeting, followed by a recap of the discussion and the action items that were agreed upon.
An office memo starts by clearly stating the purpose of the memo, follows up with the context for the request, and ends with specific instructions.
Part of establishing your credibility as a professional is choosing a direction for your content. Using the proper flow for each piece of content will help you get the results that you desire.
6. Persuading your audience to take action
If you're in sales, your business writing should persuade your audience to do something. In most cases, it's a sale. For others, it could be something that leads to a purchase, such as a schedule for a demo call or a newsletter subscription.
If your content doesn't compel the reader to take action, it isn't successful. Most successful salespeople convince their readers to take action using one or more of the methods below:
Bonuses: Offering freebies to go with your product will help your new customers get the most out of their purchases.
Free trials: A limited-time trial will allow your readers to experience your product. If they like it enough, they might agree to buy it.
Free content: This isn't directly related to sales, but free content that discusses the reader's concerns and offers useful tips can help push them closer towards making a purchase.
Your audience won't purchase unless they see the benefits.
When you operate in a highly crowded niche where every brand offers a similar product or service, how you engage the reader can spell the difference between generating sales and losing out to the competition.
Bottomline
As a sales professional, you cannot avoid writing to your clients and the company you represent. Each email you send is an opportunity to convince your readers that your products are worth trying. When you follow effective business writing practices, the chances of getting that sale increase significantly.
The art of business writing starts with getting to know who you're writing for: What do they need? Where do they stand? How do they speak? Answering these three questions alone takes a bit of time as it will dictate the rest of your business writing strategy, including the benefits you choose to highlight or how you can persuade your audience to buy something from you.
There are other rules, such as using the correct grammar, telling a story using the fewest words possible, and following a logical flow, that you shouldn't disregard. These rules are there because they help your audience understand what you're trying to express.
Overall, business writing aims not to impress the reader but to inform them about their choices. As long as you stay professional and stick to your talking points, you have a good chance of landing the deal.
Bio
Nicholas Rubright is the communications specialist for Writer, an AI writing assistant designed for teams. Nicholas has previously worked to develop content marketing strategies for brands like Webex, Havenly, and Fictiv.