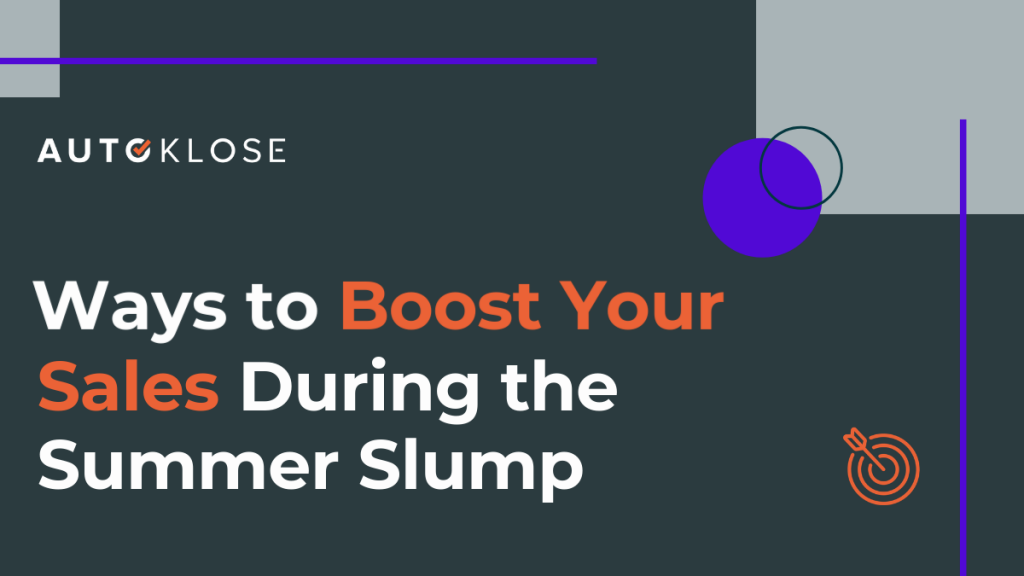 Summer is, in general, a pretty slow season for many businesses.
Many prospects can't wait to clock out and start their vacation or staycation, so no wonder that you'll be getting that "call me back after Labor Day" a lot.
You can count on the fact that your carefully crafted emails will result in a number of OOO messages, while your voicemails will go unanswered.
What could be worse than a regular summer slowdown? The one plagued by COVID-19. Throw in a raging pandemic that slowed down our lives, let alone sales.
People are even more reluctant to invest in new solutions when they feel insecure about what the future will bring.
However, this doesn't mean that there's nothing you can do and that you're doomed. We'll share a couple of ideas that can help you beat the heat, boost summer sales, and mitigate the consequences of COVID-19.
1. Plan in Advance
This topic by no means implies that you should be the last man (or woman) standing and that you shouldn't go on vacation during these critical months.
Needless to say, taking a vacation is extremely important in preventing burnout as well as for boosting productivity, motivation, and engagement at work, and even research studies corroborate this fact.
It's very important to make your plans a couple of months ahead and to prepare everything before you leave.
Here are some main points that you should go through.
1.Prevent scheduling conflicts and overlapping
Discuss the vacation schedule with your team at least a couple of weeks in advance. Yes, even if it's very likely that the members of your team will spend their vacay lounging in their backyards.
This will allow every member of the team to organize their workload and complete tasks before their time off.
Besides, it will be easier for you to organize a backup system and have everything covered while someone is away.
2. Stay in Touch with Your Prospects
If you have been nurturing a certain prospect for months, check when you've promised you'll get in touch, and make sure that you are at the office around that time.
It wouldn't be a good idea to delegate a member of your team to deal with these prospects as they can be under the impression that you aren't consistent and dedicated to your work.
If some of your prospects have an upcoming goal or a deadline in the fall, remind them to take action in a timely manner.
3. Put More Effort into Your Activity
For example, if it takes 20 demos a month to hit your quota, make sure to book and deliver those 20 demos before your vacation.
Don't give up in advance only because you think nobody will say yes and agree to have a meeting with you during the vacation season.
4. Facilitate Booking Meetings
Make it as easy as possible for your prospects to contact you and book a meeting.
Instead of letting them waste their time on calling and trying to find the date when both you and them are available, include a link to your calendar in your emails.
This will allow your prospects to see when you're available, pick a date, and book a meeting without having to wait for you to confirm it.
By eliminating any potential friction and obstacles from the process, you can speed up your sales cycle.
5. Out-of-Office Messages Are OK, But…
Being unavailable can only put your prospects off.
While it's commonly suggested that you should turn off your business phone while you're on holiday, it's a better idea to dedicate 30 minutes a day (but not more than this), to check your phone and email.
This time limit will make you more productive and allow you to be on top of things as well as to deal with urgent matters.
Especially, when the times are tough and when you should do your best to engage every single prospect.
6. Automate Your Email and Sales Efforts
Schedule email drip campaigns that will keep your prospects engaged.
Autoklose allows you to personalize your messages, take advantage of its customizable pre-made email sequence templates covering various business situations, and many other features that will keep your business running even while you're relaxing away from the office.
The real-time reporting option allows you to check how your campaigns are performing and fine-tune them if necessary.
2. Run Social Media Contests
Your prospects won't check their business emails, but it's very likely that they'll check their social media accounts while on vacation.
That's why running various contests during the summer months can help you increase engagement and expand your reach.
Giveaways are particularly effective, and what's even better, they're a powerful psychological motivator as people who get something for free feel almost obliged to "return the favor" and they usually end up making a purchase.
Big dates such as the Fourth of July or Canada Day can serve as perfect occasions to host a giveaway on social media and celebrate together with your prospects.
Use Facebook, Twitter, and Instagram, as these channels are popular regardless of the season.
3. Diversify Your Lead Sources
It's easy to start relying on the same old lead generation practices and fail to experiment.
But, instead of playing it safe all the time, you should think about experimenting with your lead sources and diversifying them.
That way, even if one of your regular lead sources runs dry, you will be able to freshen up your funnel and secure an influx of new leads.
For example, you can give social selling a chance.
This strategy is very effective and can help you forge numerous new connections and expand your reach.
By establishing a network of professionals from your industry, you can be sure that you'll generate a steady flow of high-quality leads.
Another good idea can be creating premium content and gating it. That way, people who are interested in reading your latest industry report, white paper, or a useful blog post, will have to sign up for your newsletter and provide contact information.
This tactic is effective because you'll be able to target high-quality leads that are most likely to convert.

4. Refresh Your Messaging
The summer slump is a perfect time to change your messaging if you notice that it's ineffective. You can test various options and see how they perform.
It's a good idea to throw in a seasonal touch and mix in a bit of humor to encourage engagement.
You can start your voicemail or email by saying something along the lines of "Sorry to drag you away from your margaritas, but some of us have to work for our mutual benefit…"
Such phrases will help you establish rapport with your prospects and ease potential tension caused by interrupting their leisure time.
5. Make the Most of Video
As we're witnessing a huge shift to digital due to COVID-19, video has crystalized as a powerful and effective communication channel.
In-person meetings and sales activities have dropped significantly, as people are more comfortable staying at a safe distance.
According to McKinsey, traditional, in-person channels have driven 55% less revenue since COVID-19, unlike videoconference and live chat, which have seen a 69% and 31%increase respectively.
The odds are that it will be more difficult for your prospects to ignore your outreach if you send them a personal video. It will tremendously humanize your approach and put a face to a name.
For example, if you've booked an appointment or a demo with your prospect, you can send them a personal video message one day in advance to remind them about your meeting. When they see and hear you, they will probably feel guilty about ghosting you and not showing up.
Thanks to audio and visual cues available only in video, it will be easier for you to build rapport and familiarity with your prospects, and remove the obstacles caused by the lack of in-person communication.
6. Get Ready for the Fall
One of the ways to spend a long, hot, slow summer is by getting ready for the next season and making sure that you have everything in place after Labor Day and the return of your prospects from their vacation.
This means planning, creating, and repurposing your content in advance so that you don't have to think about it when things (finally) get busy. As you already have more time than usual, you can think about writing an e-book or another comprehensive resource that you can later use as a lead magnet.
Finally, plan different campaigns for a couple of months ahead, and prepare email campaigns, ads, and a social media calendar so that you don't have to stress about it when the time comes.
Even if your summer is slow in terms of sales, you can make up for everything by using it to gear up for the fall/winter.
7. Add Value
Many companies resort to seasonal discounts and cutting prices in order to attract customers.
Apart from negatively affecting their bottom line, this common strategy carries another risk – your customers will always wait for summer, Christmas, or Easter sales in order to make a purchase and save some money.
Instead of reducing prices, spark their interest by adding value and throwing in some premium features in a regular subscription package, or giving away branded items for purchases above a certain threshold.
Such deals are great not only for boosting customer loyalty with your existing clients but also for landing you new deals.
Another way of adding value is by offering your prospects some useful free resources which are covering their pain points in a helpful manner.
That way, slow summer months can be used for nurturing your leads.
For example, the Autoklose team creates a number of useful and free resources.
For example:
It consists of free email templates for different situations from Autoklose, as well as from the industry experts.
You can easily customize and use them for your campaigns. Also, if you have a template that performs well, you can submit it and we can add it to this library.
8. Don't Forget About Your Existing Customers and Prospects
Sometimes we get so carried away with our efforts to generate new leads, that we neglect our existing customers and prospects.
However, if we bear in mind that it's more expensive to acquire a new customer than it is to keep an existing one, it's clear that taking your current customers and prospects for granted can be a costly mistake.
Summer is a good time to catch up with those who are already in your funnel or who have already purchased from you.
But don't reach out just to touch base – offer them an upsell, an irresistible deal, or a cool incentive program.
There's nothing wrong with suggesting a chat over a virtual cup of coffee to discuss how they're handling the current crisis.
Showing that you care and offering your help is something that they will not forget, and that's how customer loyalty is built.

Closing Thoughts
You still might experience a summer + COVID-19 sales slump, but implementing these tactics can reduce the blow and minimize its impact on your revenue. The key is in being proactive and innovative, and embracing new channels for getting and staying in touch with your prospects and customers.