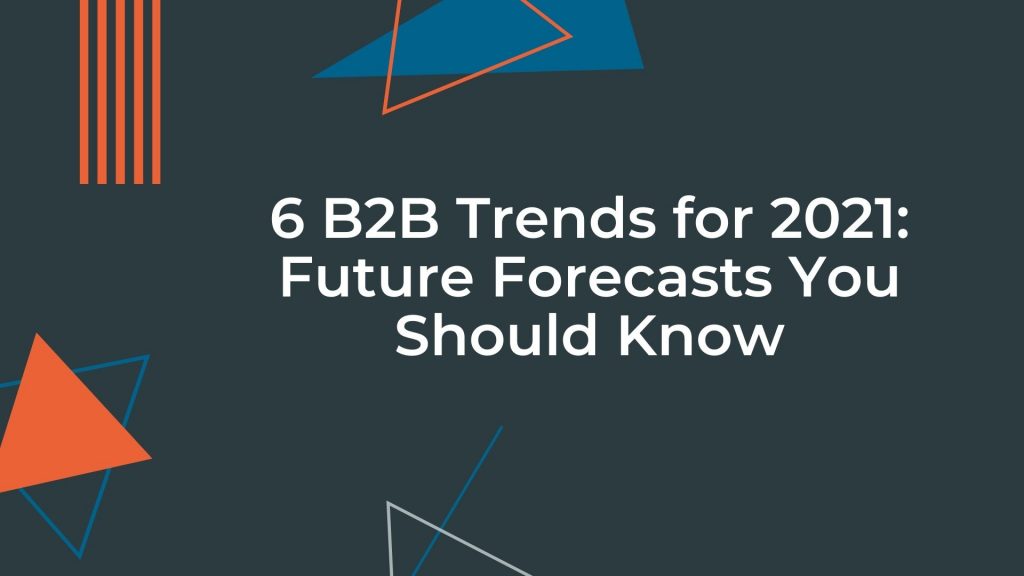 At the start of the new year, it's only prudent to try to look ahead at what awaits us in the future.
While some B2B trends in 2021 remain unchanging, others are showing a shift, whether because of the new technologies, new customers, a changing economic and political landscape, or simply because strategies can get worn out if not updated and improved upon.
So, what are the main predictions you need to know about in order to get a head start on your competitors?
Let's have a look.
1. New Tactics for the New Customers
Instead of growing older with each passing year, B2B target audiences are paradoxically getting younger.
Educational and entrepreneurial opportunities that the internet has created resulted in a drastic increase of young business owners whose attention you need to grab.
Successfully selling to this kind of audience requires different tactics, channels, and even registers from those you'd use to sell to gray-haired industry veterans. Some of the ways to reach them that have for a while now been steadily increasing in popularity and are promising to do so in 2021 as well, include:
Video, connections are fast enough and devices powerful enough for people to be relying on this medium much more than they used to 5 or 10 years ago
Social media, while it's been a great tool for B2C marketing and sales practically from the very start, it is working its way into an increasing number of B2B funnels, both as a means of research or outreach
Podcasts, consumed with fervor by Millenials and Gen Z-ers they don't only have the benefit of a great reach, but also take some of the stigma off of advertising. In other words, the sponsors are not seen as greedy conglomerates as is often the case with other media, but almost as someone sharing the values of the podcast they support, which humanizes them to a certain degree.
If you hope to make a profit in 2021, you ignore these and similar channels at your peril. The decision-makers that you are trying to convince are getting younger all the time and they need to be offered something fresh.
2. No More Taking a Stab in the Dark
While posts like this one are meant to give you an idea of what you should be doing to reach your customers, the best source for this kind of information are the customers themselves.
The first way of getting this data is simply by asking them. While soliciting customer feedback is by no means a new idea, it is just as important as it ever was, and there are plenty of new ways to go about putting it into action.
Email, chat, social networks, live events, and of course, the good old phone are just some of the ways to get your customers to share their perception of you. More often than not, this will not only pinpoint the problem you have – is it the product itself, your sales process, the price, etc. but also offer a way to solve it, although not always a feasible one.
Naturally, aside from asking, if you want to learn something, you also have to do your fair share of observing, and that is where data analytics comes in. From examining your own processes so you can make them more efficient, to taking a broader look at the entire market and dominant trends in it, all the information you need is out there, you just need to know how to find, sort and use it.
3. Automation Isn't Slowing Down
While expanding your martech stack can help you learn more about your target audience, it can also help you find new leads, organize them, and finally, reach out to them. Automation will definitely be one of the most important B2B trends in 2021.
Our tool is a perfect example of how automating certain processes can make your life easier.
With Autoklose you can not only keep track of your contacts, the stage of the funnel they are in, and so on, you can also create outreach templates that can be automatically personalized and sent out to the intended recipients at any time you specify. Aside from eliminating the possibility of human error in some parts of the process, this allows a single sales rep to cover much more ground than they could otherwise.
Amazingly, B2B seems to be lagging behind B2C when it comes to the adoption of similar tools and digitalization in general.
This is patently absurd, especially since the processes involved in B2B sales, as well as a B2B buying process, are much more complex and demanding than those required to make a B2C sale, and would, therefore, benefit much more from these technologies.
However, that's not to say that no efforts are being made. Developments in AI and machine learning are finding more and more applications in B2B sales, from automating customer support to analyzing enormous swaths of data in order to get a clearer perspective on the market.

4. Customers Want You to Know Their Name
B2B customers are not as averse to being contacted by advertisers as B2C customers are, or to the seller knowing a bit about them when making that contact.
Naturally, there are still ways to creep out a customer by showing the breadth of the information you have on them, but they do want you to see them as a person, as that makes them feel that you have a chance of understanding the problems they have and perhaps offering an adequate solution.
Sales in B2B take longer and are much more complex than in B2C. There can be countless back-and-forth's between a customer and a sales rep. If they realize during your correspondence that you don't know the basic details about them, how are they to expect that you know the more specific info regarding the issue they are having?
Since the sales process is where the customers get information on how your product can help them, most of the time, they won't mind you contacting them, as long as you keep it relevant and helpful. Remember, you are not hawking a product, you are building a relationship, and that can't happen without getting at least somewhat personal.
5. Adapting to an Agile World
Going Agile is a demanding process that can be enormously disruptive during implementation, but once successfully carried out, it helps businesses reduce their costs of operation, increase their productivity, and even raise the morale of the employees.
If you want to keep growing in the changing market, you need to adapt to it. Different production methods demand different sales tactics, especially in the B2B arena where sales are a protracted and complex process.
While adopting this incremental approach might be challenging, the increasing popularity of Agile methodologies leaves no room for hesitation, especially since this trend doesn't seem like it will be slowing down in 2021.
6. Targeted Marketing for Customer Retention
It's true that new customers are the lifeblood of every business, but in insecure times like these when people aren't comfortable with committing to a new vendor for an extended period of time, it's your existing, loyal customers that will save the day and your bottom line.
Selling to an existing customer is much easier than attempting to attract and pitch your product to new customers.
And that's exactly why targeted, retention marketing is so effective. It consists of a number of different activities whose purpose is to facilitate and maintain customer relationships, as well as ensure a superb customer experience. As a result, the likelihood of continued sales, lower cost per sale, and a steady ROI increases tremendously.
A 5% increase in customer retention leads to a 25% to 95% increase in profit.
All this means that you should really try hard to keep your existing customers happy.
Some of the ways of achieving this include:
Getting personal. In a world burdened by a raging pandemic, where social distancing is a must, empathy is crucial.  Showing your customers that you care is a little gesture that can make all the difference. Reach out to your customers just to ask how they are and whether you can help. 
Providing customer support and care. Make sure that your customers can reach a live agent if they have a problem. Companies started relying on chatbots increasingly, but sometimes, especially when a customer is frustrated, it's essential to handle their problem in a sensitive manner, and that's something a well-versed support rep can do better than an AI-powered algorithm. 
Owning your mistakes. This is vital for your reputation so in case a problem arises, take responsibility and apologize. Such an approach will let your customers see that you're honest and genuine, as well as that you'll do everything it takes to prevent future mistakes and issues. 
Appreciating customer loyalty. Reward your customers for their loyalty by offering them a discount or premium features for the same price. Make them feel special and they will reciprocate this with their trust and loyalty.   
Celebrating their success. Use social media to share your customers' success stories. This way, you'll be able to easily and spontaneously engage your customers after the initial sale and create a lot of cross-promotional opportunities.
The trick is in being persistent with your retention strategy, and you'll amass a loyal customer base that will fill your funnel and keep your profit steady.

The Bottom Line
Even though the rate of technological progress is accelerating, human psychology is not that different from what it used to be years ago. While the growing abundance of options for reaching people does require us to keep our finger on the pulse of innovation, how we should use those options is already engrained in the processes that we do have.