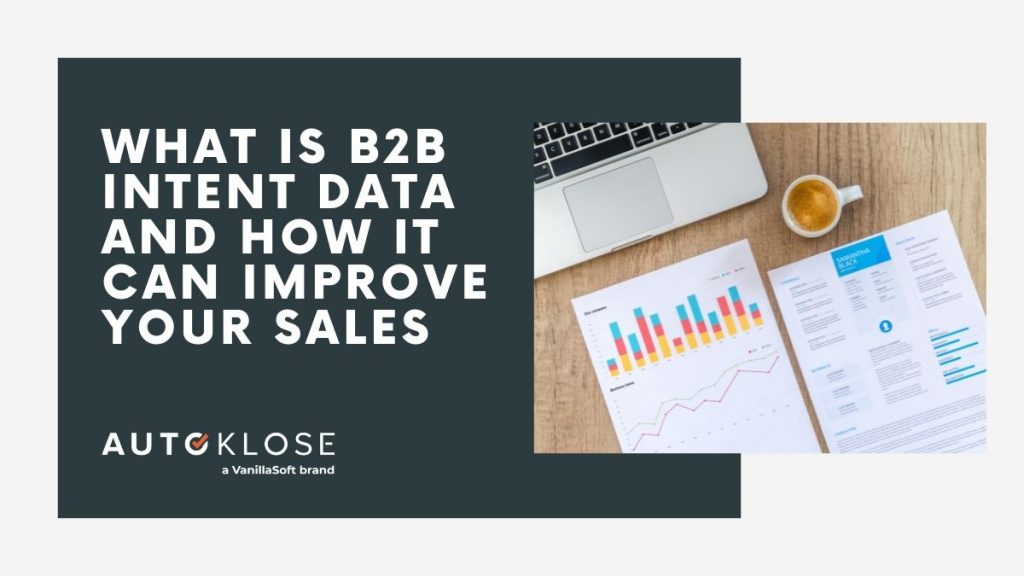 Sales isn't pitching your product to any random person who lands on your website or clicks on your ad, and hoping for the best.
Modern sales heavily relies on data on customers, their needs, behaviors, and expectations. But, it's not enough to leverage that data only in sales and discovery calls because B2B buyers are already well into their buying journey by the time they reach out to the sales department.
Their research is 50% to 75% done and some of your prospective buyers have even already made a purchasing decision.
This leaves you with slim chances of changing their mind.
But what you can do is take advantage of B2B intent data and be one step ahead of your customers.
What Is B2B Intent Data?
Wouldn't it be great if you knew what your prospects are up to and what their next steps are?
That way, you could contact the ones that are actively researching a solution you offer at the right moment and influence their decision-making process.
That's where B2B intent data comes in to give you a cue as to what your potential customers are researching. In other words, this sophisticated sales intelligence will provide you with accurate insight into which leads and accounts are actively looking for the product or service you're offering.
The best part is that these behavioral signals are spotted on third-party websites, which means that B2B intent data doesn't limit itself to your domain – it offers a significantly wider scope.
It's the next-level prospecting.
How Does B2B Intent Data Work?
When your potential customers encounter a problem, they start searching for a solution.
This means that they're visiting different websites and consuming relevant content.
And this spike in interest in a particular topic is a signal that someone is looking for a product or service you're offering. This timely information can give you a heads up that this particular lead or account is serious about making a purchase relatively soon.
So, instead of waiting for that prospect to land on your website, you can make a move before they have shortlisted their options.
This will give you a competitive advantage and allow your solution to gain visibility early on in the process.
Finally, you'll be able to set your priorities and reach out to high-intent leads and accounts instead of those qualified using traditional methods.
How Is B2B Intent Data Collected?
To answer this question, we first have to define the types of B2B intent data.
First-Party Intent Data
This kind of intent data is not as valuable as the other two, because it refers to the information collected from your own sources. In other words, it's the data you generate through your Google Analytics, CRM, email automation platform, or any other tool you use for marketing and sales purposes.
It's not that this data isn't valuable – it's just focused only on those leads who have decided to look your company up. This means that by relying on this kind of intent data, you let way too many potential buyers slip through the cracks.
Second-Party Intent Data
Second-party intent data is the information about your company or solution published elsewhere on the internet. This could be the data about your organization from a review site, QA platforms such as Quora, or a survey conducted by another company.
Third-Party Intent Data
Now we've come to the most important and valuable type of intent data that could actually pack your pipeline with sizzling hot leads.
This is the data consisting of digital touchpoints outside your domain and marketing tools. It's practically the sum of your prospects' activities on external sources including competitors' websites, social media platforms, and different content-publishing platforms.
With third-party intent data, you can get comprehensive and timely information about what leads and accounts are worth pursuing based on their online activity. In short, the content they consume indicates that they are in search of a problem solution matching the one you're selling.


How to Use B2B Intent Data in Your Sales Activities?
Your sales and marketing teams can step up their efforts by implementing B2B sales intelligence in their respective activities.
This powerful tool will allow them to create highly granular and hyper-personalized campaigns, accurately segment their target audience, and prioritize their outreach based on the lead intent.
Here are some of the most important use cases of B2B intent data.
Identify Opportunities Early on in the Process
One of the best ways to capture your prospect's attention is to get in touch with them before your competitors do.
And that's exactly what intent data can help you with, as you won't have to wait for the prospect to see your ad, discover your website, read your blog post, or check out your product page. When that happens, it could be too late.
With intent data, you'll already know who's in the market for the kind of solution you offer. This is a huge advantage since you can contact them, send relevant and informative content, and start building a relationship with them.
Target the Right Prospects with Personalized Outreach
Both sales and marketing can leverage intent data to build lists of targeted accounts that actively research relevant solutions and engage them with customized messaging.
This technology is particularly suited to support your ABM campaigns, that depend on building meaningful relationships. By processing and analyzing massive amounts of data including thousands of topics about different solutions, intent data gives you a detailed insight into the accounts that are ready to buy immediately.
In a nutshell, intent data will tell you what companies are researching a particular topic and how intensively.
Refine Your Content Marketing
Since you'll have all the relevant information about what kind of content your prospects are consuming, you'll be able to refine your content marketing strategy to match their needs and interests.
Combined with SEO that will provide you with relevant keywords and topics, intent data will add a deeper context and allow you to create content that will attract your potential customers. 
For faster progress, turn to specialized B2B content marketing agencies. They use intent data to tailor content to your audience's needs, engaging potential customers effectively.
Send Targeted Cold Emails
With intent data, you'll have all the elements you need to create targeted email outreach that's effective.
Let's say your potential customer is researching and reading about a comprehensive sales engagement platform, and they get an email from you listing all the benefits of the sales engagement platform for their industry and attaching a relevant use case.
The odds are they will be intrigued because that email reached them at the right time and with the right message.
We could even say that it's not that cold either – it shows you know what they're looking for and give them the content they're interested in.
Leverage Lead Scoring
Only 27% of the leads that sales get from their marketing department will be qualified.
But, if you implement B2B intent data, you'll be able to distinguish which leads are genuinely interested in purchasing so that you can quickly send them relevant content or even hand them over to sales for further nurturing.
Ultimately, this will allow you to seize the opportunity and start conversations with potential buyers before your competitors do.
Last but not least, your sales and marketing won't waste time and money trying to engage prospects that have no intention of purchasing.
How to Make the Most of B2B Intent Data?
Besides intent data, there are other kinds of B2B data, and by combining them, you can keep your pipeline packed with high-quality leads and close more deals.
Fit Data
As its name suggests, fit data refers to establishing what accounts and leads are the right fit for your product or service.
It consists of technographic data used for segmenting and scoring prospects, as well as firmographic data, used for segmenting accounts.
Unlike intent data, fit data isn't dynamic and its purpose is to help you determine whether a potential customer is a good fit, but doesn't provide you additional information about timing or context.
Opportunity Data
This type of B2B data refers to events in organizations that can create favorable opportunities for closing a sale. For example, an increase in budget, mergers, acquisitions, or changes in the executive management team, can indicate that the company will be reconsidering its tech stack and thinking about buying.
Conclusion
B2B intent data can boost your sales and marketing efforts and give you a clear sense of direction. With it, you won't have to struggle with prospecting, lead generation, and lead qualification. And even more importantly, you'll be able to outperform your competitors and reach your prospects before they do.