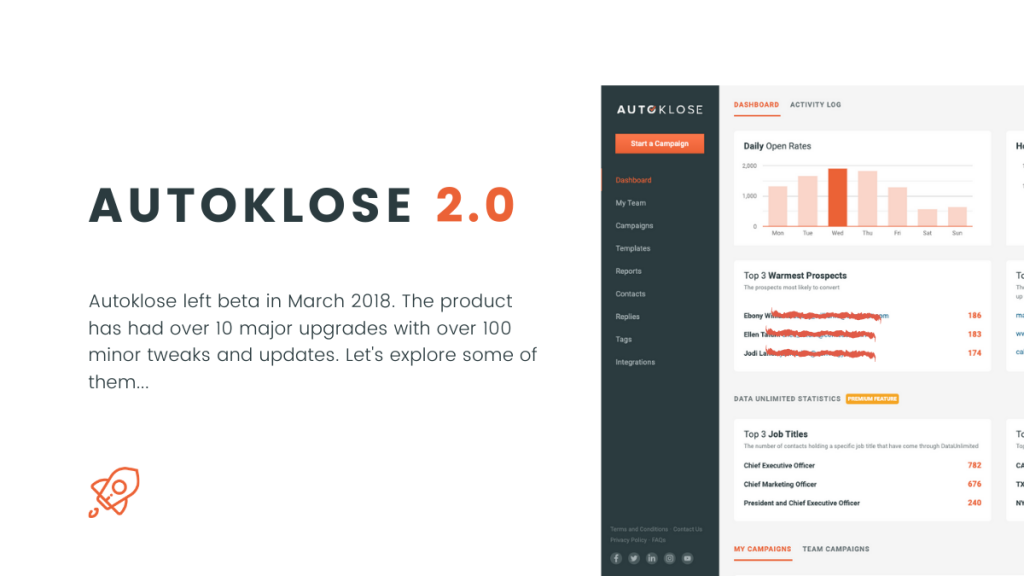 D-day has finally come!
Autoklose 2.0 is officially live and ready to skyrocket your outbound prospecting and sales engagement efforts to new heights.
I'm using such a bombastic vocabulary because this latest update marks two years since Autoklose 1.0 left beta and went live for a wider audience.
In March 2018, we launched Autoklose and promoted it on Product Hunt. A slimmed-down, MVP version of the platform still managed to garner rave reviews from users and made its way into every savvy salesperson's arsenal.
2 years and 10 major updates later, a polished, enhanced, and sophisticated iteration of Autoklose has been launched.
Let's discuss the new features and see how they will supercharge your sales outreach efforts and help you build and grow more meaningful relationships with your prospects.
A Total Makeover of the Campaigns Feature
The first update concerns our existing Campaigns feature.
Besides a visual facelift, this update added some new functionalities that allow for a more detailed and granular overview of every recipient in a campaign.
As of now, it's possible to see all the relevant information about your and your team's campaigns, including the number of leads, the number of opened/replied emails out of all the emails sent from that particular campaign, the campaign status/ phase the campaign is in, and the start/end date for each campaign.
It's important to mention that you'll be able to use a search box to find a certain campaign, as well as to filter your campaigns based on their current status.

A big change is that the Single Campaign screen now offers a much more detailed overview of your campaign and displays your stats in a more granular manner, thus allowing you to closely monitor the performance of the campaign and tweak it if necessary.
The following options are available within this screen:
1. Details
This is the overall campaign information – redesigned to give a more detailed insight into your campaign analytics.
From this screen, you can add more recipients into the campaign/download a recipients list, edit campaign, and much more.
One of the details is the Replies section, and here you can find a total number of the replies you receive. But that's not all as this statistic branches out into more detailed analytics based on different reply types.
There are 4 of them – Engaged, Autoresponse/OOO, Unsubscribed, and Not interested.
More the Replies later on.
2. Emails
This tab will show you all the emails in the sequence with granular reporting for each one of them.
3. Recipients
This tab will show you the detailed information on each recipient inside your campaign and their progress within the campaign cycle.
For each recipient, you can see detailed information such as the phase they are in/which email from the sequence they have received or the status of the recipient. Besides, you can:
add or remove tags,
export a recipients list in a CSV file,
add them to another campaign,
remove them from the campaign,
and by clicking on the "view" option next to a recipient's email you will be able to see that recipient's activity in that particular campaign or add that contact to the Do Not Email list.
Recipients can be filtered using the advanced filters option that comes with various filters you can use.
Finally, what's most important is that you can now manually change the status of a recipient, which can come in handy if you are running multichannel campaigns from different platforms.
4. Tabs for Action-Based Items
Here, you'll be able to see a list of sent emails, opened/ clicked/replied emails with the phase from which the recipient's activity came, and the date when the action was performed.
The Sent tab shows all the emails that you sent within the selected campaigns.
The Opened tab shows you recipients who opened your emails.
The Clicked tab allows you to see the exact link in your email that was clicked.
The Replied tab will give you the ability to see the actual reply without having to log in to your email client, and you can see and filter replies by the reply type.

Also, from this screen, you can re-add your Out of Office replies back to your campaign and continue the sequence where it left off.
The Replies Combined Inbox Feature Powered by Autoklose Sentiments™
Would you like to have an even more detailed overview of your email campaigns?
How about being able to filter out your recipients' replies based on their underlying sentiments towards every single email you send them?
We took the "make your inbox work for you" idea to another level and created the Replies Combined Inbox feature within the Autoklose platform, thus providing you with a clear insight into all the replies you receive across all your campaigns.
This entirely new section serves as a central hub that shows all the replies you receive across all your campaigns and their status.
Besides the information about a recipient, you can also view the date and time of the actual reply, to which campaign you recipients reacted and which template is used in it, and similarly to the campaigns section – the reply type.
In other words, you'll have your recipients' responses in one place, automatically classified based on 4 different filters that reflect how they feel about your emails. According to our smart algorithm, Autoklose Sentiments™, your recipients' replies will be categorized as
Engaged
Not interested
Autoresponse/Out of Office
Unsubscribe
Based on this, you won't have to rely on the guesswork when it comes to identifying engaged prospects. Similarly, you won't be wasting your time on those who aren't interested in your emails and offers.
Now you can easily find all the auto-replies in one place, filter them out, and push them back into the campaigns they were in so that they can continue exactly where they stopped the last time.
If that isn't suitable for you, you can even add them to a completely different one with just 2 clicks.
All this significantly improves the workflows within your Autoklose platform and makes sure that you invest your time and energy into nurturing the prospects that are most likely to convert.