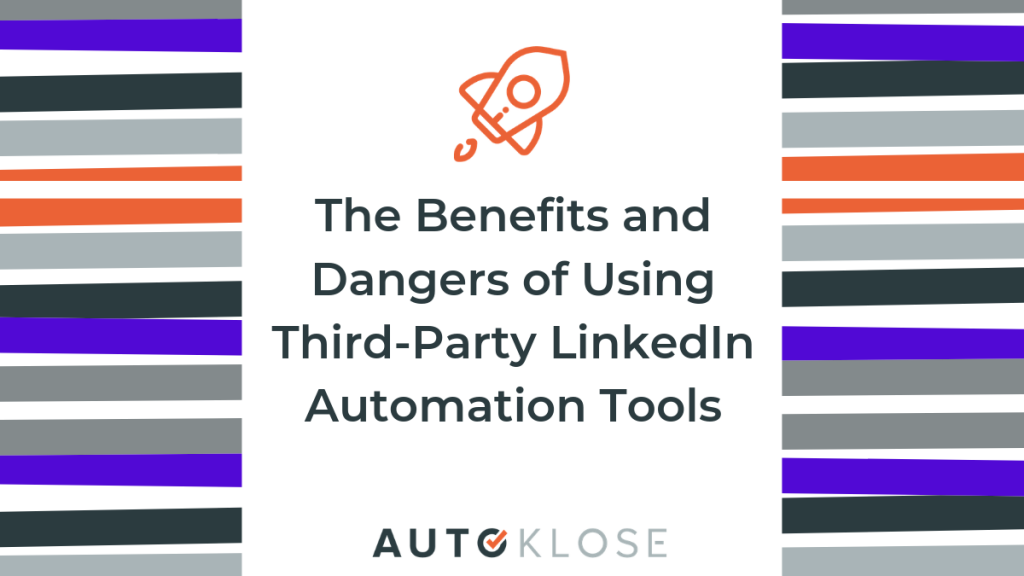 TL;DR
---
Automation has disrupted every industry and allowed companies to boost their productivity and efficiency, as well as to reduce operating costs and offer better user experience to their customers.
So, we're talking about a technology which is making a huge impact on the way we do business and which will become even more powerful in the future.
In a nutshell, automation is making our jobs and lives easier.
Instead of being stuck doing all the repetitive and mundane tasks at work, you can implement automation and focus on high-value, core activities that actually generate profit.
And yet, not everybody's happy with the idea of cutting corners and automating tasks.
LinkedIn recently launched a stealth update directed against automation tools and extensions.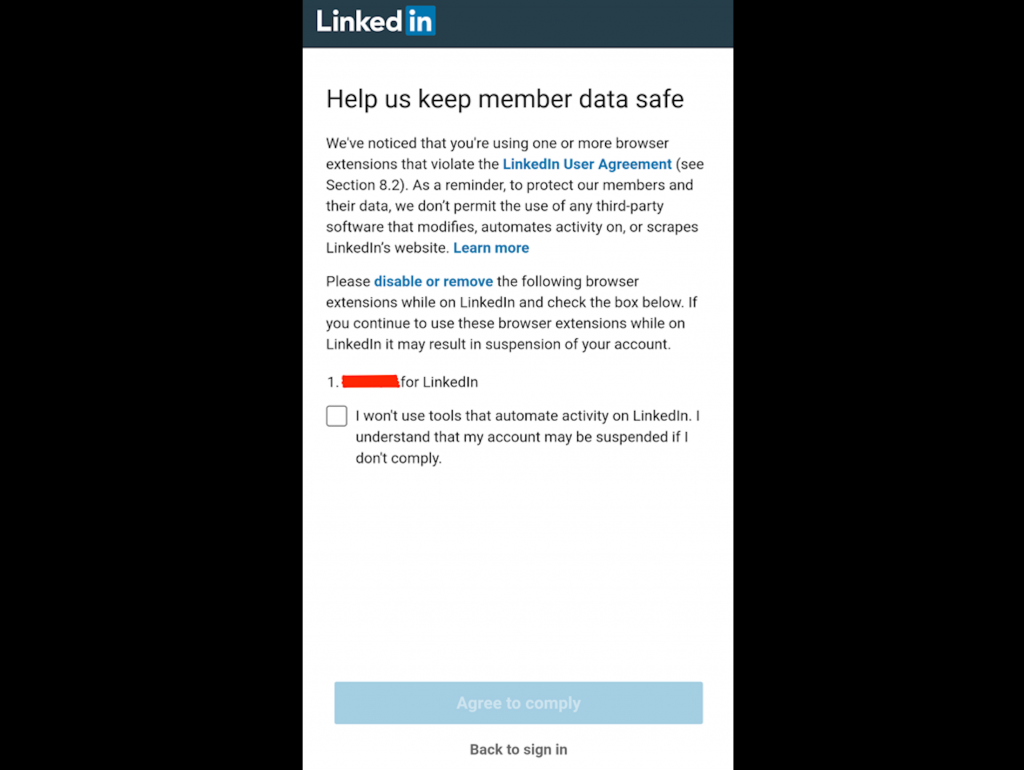 What gives?
Should we ignore it and continue automating our outreach on this social media network or play by the new rules?
The decision is all yours, but we'll try to put things in a different perspective and explore this issue from various angles to help you make up your mind.
Wanna Cut the Workload?
LinkedIn has been on the prowl, looking for those users who want to automate some of the mundane activities on the platform such as sending connection requests, endorsing their connections, viewing profiles, bulk messaging, recruiting purposes and even scraping profile information and creating contact databases.
And who can blame them? The users, I mean.
It can't be denied that sitting at your desk, clicking on connection buttons, and scrolling through other people's profiles is a boring and low-value task. But the thing is that it had to be done if you want to grow your network and expand your reach.
And automation tools can do exactly that – pick up the slack, do the boring stuff, and free up your time so that you can focus on actually developing meaningful relationships with people they connect with on LinkedIn.
So, the benefits of these tools are more than obvious as there's no need to stress how important LinkedIn is prospecting and we discussed how to make most of it.
And we can conclude that while it's a good idea to dedicate some time to build relationships on this platform, that time could be spent in a much more productive manner than on the above-mentioned repetitive activities.
You're So Busted!
While the automation trend has been picking up steam in different industries, it seems that social media platforms do everything in their power to put an end to people using different tools to boost their engagement.
They want it all to be natural.
Facebook, for example, introduced changes to their algorithm so that it shows users more posts from their friends and family and fewer posts from brand Pages.
So, I hope that the following warning hasn't popped up in your inbox:
"We think you may be using an automation tool. To help you guard against abuse, we don't permit the use of software tools that automate activity on LinkedIn.
We have showed you a warning previously about this and have now restricted your account."
Ouch, this hurts!
This message is ominously concluded with an ultimatum which reads that if you continue to further engage in such activities, your account will be permanently suspended.
This social media network has been trying to shut down automation tool for quite some time, and finally, in December of 2018, it rolled out an improved algorithm capable of detecting whether someone uses LinkedIn automation tools and included this newly established ban in its TOS.
Some of these tools include Doux Soup, Linkedhelper, Meet Leonard, and LinkedBoost, to mention only the most prominent ones.
Doux Soup reacted to this ban by informing its users that they wouldn't be at risk of having their LinkedIn profiles permanently suspended if they use this tool responsibly and if they follow the best practice guidelines.
What does that mean?
It's a good idea to establish your LinkedIn Range which you can do by calculating 3.5-5% of your total connections. In my case, and I have approximately 30,000 connections, that would be up to 1,500. In other words, to be safe, it's recommended not to exceed your LinkedIn Range when you're sending out new connection requests.
So, basically, your automation should mimic regular user behavior. It's only logical that nobody will be able to organically connect with, say, 5,000 people online – view their profiles, send them connection requests, and a message.
But if you set a tool to simply visit 100 or 200 profiles a day, without even sending requests, you'll surely benefit as most of them will check out the person who viewed their profile and maybe even send you a request themselves.
This fly-under-the-radar approach regarding automation combined with being active on LinkedIn by posting original content, engaging with your network, liking and sharing other people's posts, and joining different groups from your industry will help you grow your network.
As your network grows, so will your LinkedIn Range, and you'll be able to connect with more people every day.
But, bear in mind that this is just a recommendation and that it doesn't guarantee that LinkedIn won't catch you red-handed and suspend your account, so, think about everything carefully.
But, Why Did LinkedIn Give the Thumbs Down on Using Third-Party Automation Tools (or browser extensions)?
Many LinkedIn users don't understand why the platform is so opposed to using these tools in order to automate certain tasks.
Wouldn't it be logical to assume that these tools are additionally engaging users and encouraging them to use LinkedIn even more?
Well, the social media behemoth makes only long-term plans and carefully analyzes everything, and hence sees these apps as unsuitable because they:
🚀 Promote spam
🚀 Jeopardize the integrity of the platform by automating tasks that are supposed to be more personal such as endorsing and messaging
🚀 Can take a share of its revenue.
We don't have much information whether all this is true, but it's not the first time that LinkedIn tries to protect its digital assets. Back in 2016, the company sued 100 unnamed individuals for taking advantage of bots to scrape user profiles from its database and called this practice equal to hacking.
Similarly, Instagram managed to shut down a couple of automation tools, and penalized those who used it by shadowbanning – it silently blocked restricted the visibility of their posts thus killing their reach. Basically, shadowbanned users aren't informed that they're under some kind of restriction and they can only notice a significant drop in their reach.
What's the Verdict?
I'm not here to judge either side but to present the evidence for and against the use of 3rd party automation tools.
No matter how careful and responsible you are when automating your LinkedIn outreach, there's always a certain risk that you'll get suspended.
So, before you subscribe for any of these tools, bear in mind how much time and energy you have invested into building and growing your professional network on LinkedIn. How would you connect with these 1,000, 10,000, or 30,000 people if you lose access to your account?
So, it's only logical to ask yourself the following question:
Am I willing to jeopardize all this and be banned from using LinkedIn again?
I can't give you a definitive answer and talk you into or out of using these undoubtedly useful tools, but if you decide to give one of them a try, make sure to have a plan and stick to the best practice guidelines that I mentioned above.
What are your thoughts on this topic?
Do you use 3rd-party automation tools for LinkedIn?

---